Jeetwin Refer a friend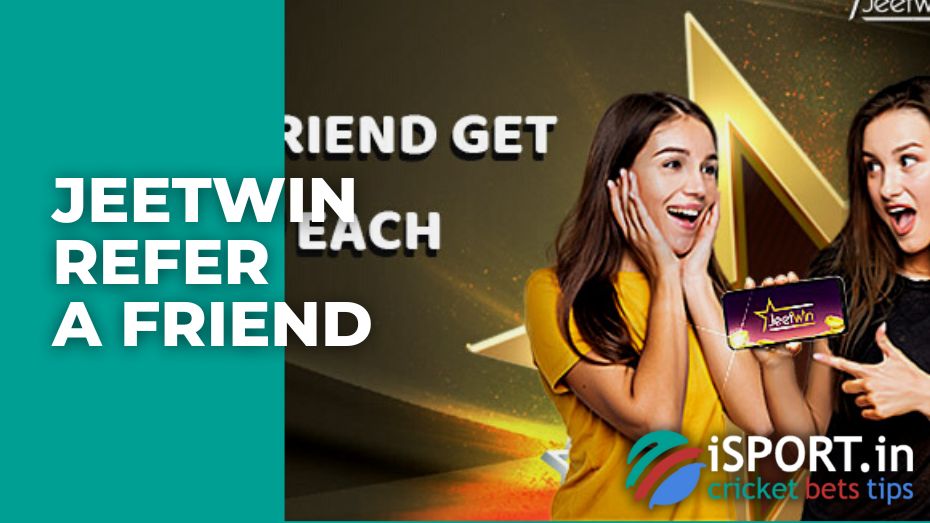 The loyalty and affiliate programs are two of the best–known types of complex rewards found in modern online casinos. However, not every bettor is willing to spend time calculating loyalty points or promoting in social networks. What should those who seek to earn extra money do? The Jeetwin Refer a friend campaign comes to the rescue in such a situation, which we will tell you about today.
Jeetwin Refer a friend: from registration to receiving a bonus
Jeetwin Refer a friend is a real find for regular online casino customers with a wide range of communication. By inviting friends to register via a promo link and involving them in an active game, you can easily get stable passive earnings.
How does it work?
The first step to participating in Jeetwin Refer a friend is, of course, creating your account with promo code. After completing the activation, it is enough to make an initial deposit and request a referral link to transfer to a friend. However, for our part, we recommend not to rush and to start using the online casino offer, choosing one of the three starting bonuses, namely:
Plus 100% to the deposit within 10 thousand INR;
Plus 100% to the deposit for playing in the Live casino section (the maximum amount of encouragement, in this case, is 5 thousand INR);
Five no deposit free spins.
After fulfilling all the conditions for the bonus received, you can proceed to the Jeetwin Refer a friend program's second part–a referral link request. There is nothing particularly complicated in this procedure, moreover, if you wish, you can contact support as many times as you want, since the organizers of the campaign not only do not limit the number of invited friends, but, on the contrary, encourage regular customers to attract new players.
After sending the received link to a friend, do not forget to provide him with detailed instructions on registration. As soon as it is completed, the recipient of the invitation will only have to replenish his account of 2000 INR, after which both he and you will receive a so-called referral ticket worth 300 INR each.
You can cash out such a ticket on a separate referral page. There are no conditions for using the accrued funds, which means that you can leave them on the account, spend them on bets or withdraw them. There is also no need to wager them, but to get one hundred percent access to the award, you will need to wrap it once in any section you like, including sports. So, for example, you can make one or more bets on your favorite league cricket matches and try your luck at Casino or slots.
A necessary clarification: even though there is no total ban on combining bonuses in Jeetwin, in this case, only those stakes that do not have promotional status will go to the wagering account. Simply put, if you have joined one of the slot tournaments in parallel, then such bets will not be counted since getting an additional reward in Jeetwin Refer a friend is impossible.
The fulfillment of the listed requirements is given exactly thirty days from the moment of accrual of the incentive. The organizers of Jeetwin Refer a friend remind you of the paramount importance of the principle of fair play, which excludes the possibility of creating a second and subsequent accounts in the same name (if they are identified, funds in the account are frozen, and the player himself is blacklisted).
Jeetwin Refer a friend: the main questions
How does Jeetwin Refer a friend work?
How many times can you participate in the Jeetwin Refer a friend campaign?
Do you need to wager encouragement in Jeetwin Refer a friend?