1xBit Promo Code Store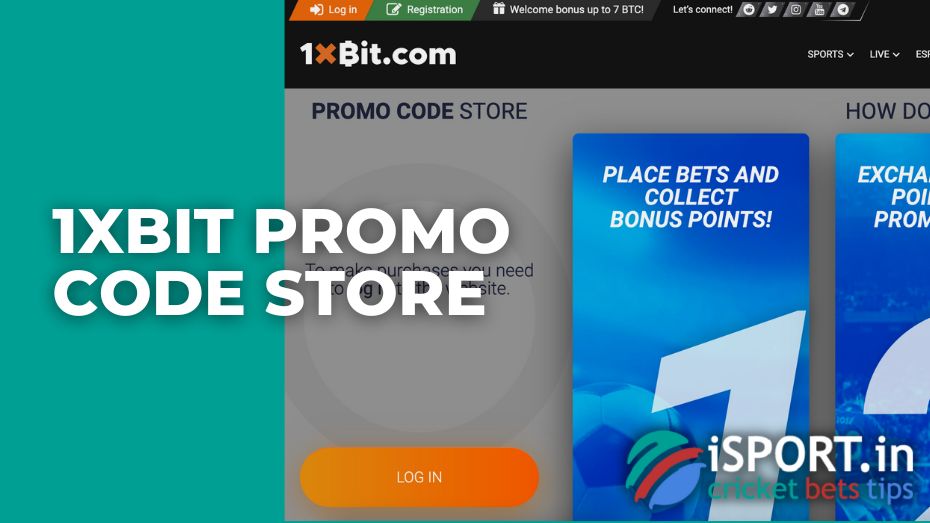 1xBit Promo Code Store, or promo code showcase is a particular section of the company's official portal, where plenty of events for the exchange of BP (bonus points), promo codes, gaming sessions and spins are collected. How does it work? We're telling you!
1xBit Promo Code Store: changing bonus points with benefits
Let's start with the fact that the 1xBit Promo Code Store cannot be called the know-how of a particular company because similar sections can be found in many competitors. Moreover, they often almost do not differ from each other, except for "prices" for gaming sessions, spins and promo codes.
1xBit Promo Code Store has some advantages that deserve to be paid attention to:
Firstly, the option of selling points. If the vast majority of online casinos only allow the exchange of BP for spinning and gaming sessions, then 1xBit willingly buys them at a rate of 500 points = 10 USD.
Secondly, there are more than 30 options for betting. Here you can find both the super-popular "Lucky Wheel ", promo codes for esports matches (ordinaries and express trains) and a sweepstake;
Thirdly, the possibility of choosing between two ways of accumulating promo points – "Interest on account balance" and "Bonus point for bets".
Attention: you can activate one of the two accumulation schemes directly in your account ("Settings").
1xBit Promo Code Store is available by default to all registered customers of the company. After logging in and checking the settings, you can immediately proceed to gamble on your favorite sport. BP will be credited automatically without any restrictions. The calculation uses the formula:
The bet amount in USD x the bet price
The second value, in turn, is calculated as follows:
The square root of odd is 1
The maximum number of BP that a single bet can bring to a client is 5. Further depends only on your personal preferences: for example, some accumulate points to then exchange them for live money and withdraw, while others are more willing to buy gaming sessions, promo codes and spins. In the second case, four basic options are offered to choose from:
Cyber, or options for esports betting (football, tennis, wrestling, and so on). The average price of a promo code is 500 BP;
Games are the most popular option for the exchange of BP, which does not require special knowledge in sports or gambling. About fifteen games are presented in this branch, the average price of a session ranges from 50 to 100 BP;
Sports – suitable for those who spend most of their time in Sports and Live. However, be careful: you can buy promo codes for bets of only two types in the Promo Code Store – single and accumulator stakes, and only for the most popular disciplines (volleyball, football, hockey, tennis). The average price of the code is 500 BP;
Bets – unlike the previous option, here you can purchase a promo code for the game in the Toto section or exchange the accumulated BP for a universal single or accumulator. The choice of discipline in this case is yours. The average price of a promo code is 500 BP.
Attention: if you are loggin in 1xBit for the first time, enter our gift – the ISPORT promo code, with which you can get up to 7 BTC to your account!
1xBit Promo Code Store is open not only for those who actively gamble in Sports and Live but also for participants of some bonus programs, in particular, fans of the Cyber Bonus Calendar. Before you join this or that event from 1xBit, do not forget to get acquainted with the terms carefully – perhaps a gift from the Promo Code Store will be a nice addition to your winnings?
1xBit Promo Code Store: how are bonus points awarded?
1xBit Promo Code Store: how can you use bonus points?
How often can you visit the 1xBit Promo Code Store?