1xBit Easter Bunny's Adventure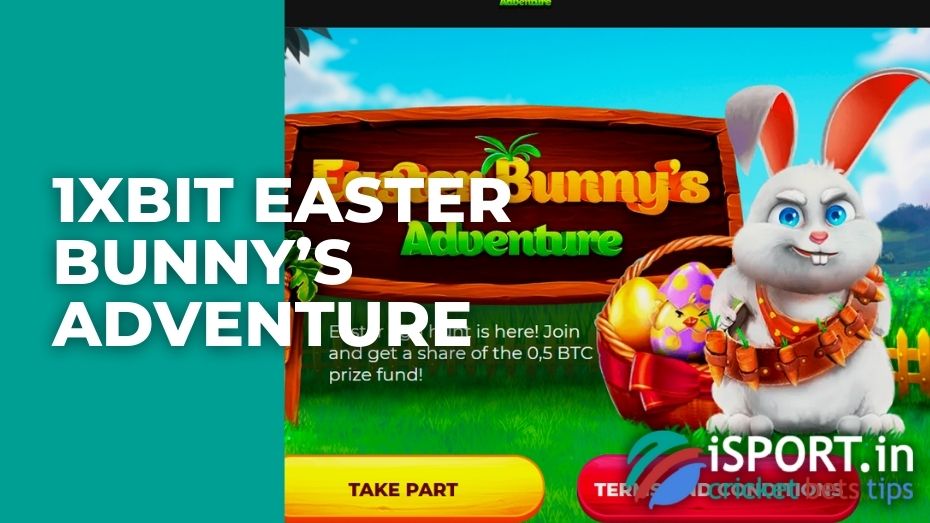 Do you like gifts? Then do not pass by the slot tournament from 1xBit Easter Bunny's Adventure, because it is planned to draw thirty prizes for a total of 0,5 BTC. All you need to win is to place bets on any slots in the gaming hall, accumulating points and advancing from round to round. The higher your position in the final summary leaderboard, the greater the chance to hit the jackpot of 120 mBTC!
1xBit Easter Bunny's Adventure: from the "Bronze Egg" to the first place
From April 15 to May 16, 2022, one of the world's leading cryptocurrency online casinos will host a tournament dedicated to the Easter holiday, or rather, its symbol – the Easter Bunny, which, as it was believed, foreshadowed the arrival of a real (and not calendar) spring.
The mechanics of 1xBit Easter Bunny's Adventure are built on the principle of multi-stage and will surely remind participants of children's board games. The design of the event page is designed in bright and elegant colors, and the key stages are given names somehow related to the Easter holiday (for example, "Silver Egg").
In total, the tournament has twenty-five stages. By joining the event, you will automatically open the "Bronze Egg". To get to the next stage of the competition, you need to "get a carrot", that is, score a certain number of points – in this case, 25. As soon as this threshold is passed, the countdown for the third stage starts automatically, and so on.
| | |
| --- | --- |
| Stage number | Required number of points |
| 1 | – |
| 2 | 25 |
| 3 | 50 |
| 4 | 200 |
| 5 | 250 |
| 6 | 300 |
| 7 | 400 |
| 8 | 500 |
| 9 | 650 |
| 10 | 750 |
| 11 | 900 |
| 12 | 1000 |
| 13 | 1100 |
| 14 | 1200 |
| 15 | 1400 |
| 16 | 1600 |
| 17 | 2000 |
| 18 | 2250 |
| 19 | 2450 |
| 20 | 2700 |
| 21 | 3000 |
| 22 | 3650 |
| 23 | 4150 |
| 24 | 4700 |
| 25 | 5000 |
Points are awarded for playing slots in the casino section. It is worth clarifying that the outcome of a particular spin does not matter since the main criterion, in this case, is the amount of the bet (so, for a bet of 0,1 mBTC you will be awarded 1 point, and for 0,25 mBTC – 3). Thus, the more amount you bet, the higher the chance of seeing your name on the list of winners.
Attention: Baccarat, Blackjack, Roulette, Bingo, Keno and Poker are excluded from the draw. No points are awarded for participating in these games.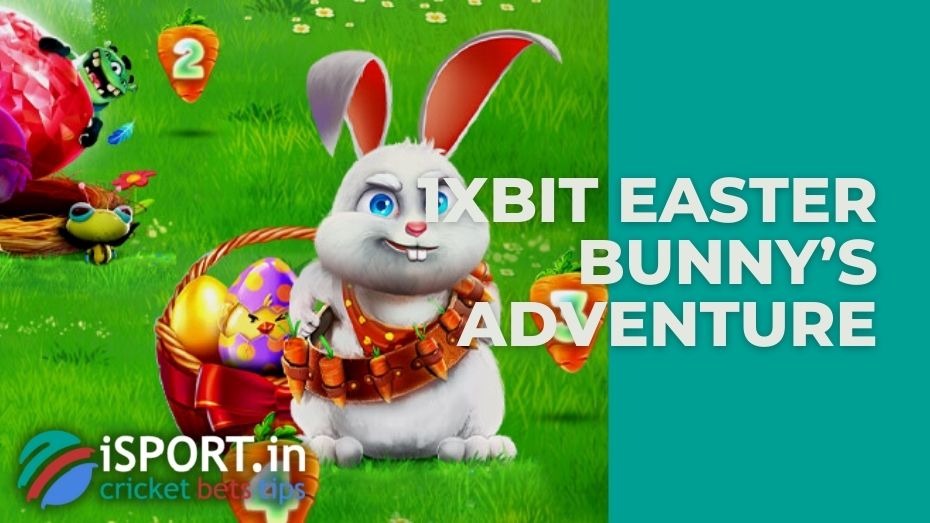 In total, there are 30 prizes in 1xBit Easter Bunny's Adventure. In addition to the total amount of points scored (which, by the way, cannot be set in advance, since everything will depend on the activity of the participants), another factor is taken into account – namely, the number of stages that you managed to overcome:
So, 120 mBTC will be received by the race leader who has passed all 25 stages;
65 mBTC will be awarded to the silver medalist who overcame the same path;
If you have passed 21 stages, then 50 mBTC will be credited to your account;
Players who have completed at least 17 stages will share 4th and 5th places and receive 20 mBTC each;
Another 15 mBTC will be awarded to 5 participants who have completed at least 12 steps (lines 6-10);
10 mBTC will be given to those who have overcome 8 stages (lines 11-20);
And finally, the participants who have completed 4 stages and accumulated enough points will share the last 10 prizes among themselves and receive 5 mBTC each.
Attention: if two or more players claim the same place, preference will be given to the one who managed to score the required number of points first.
How is it guaranteed to be among the winners of 1xBit Easter Bunny's Adventure?
Firstly, log in to your account (if you don't have your own account yet, start by registering it, and don't forget to use the promo code ISPORT, which activates the initial promotion for a total of up to 7 BTC);
Secondly, visit the event page and click "Participate";
Thirdly, top up your account and join the race.
In 1xBit Easter Bunny's Adventure, only those bets that were made for real (not bonus) funds are taken into account. You can monitor your game progress directly on the tournament page. The results will be summed up within 3 calendar days from the moment of its completion, after which the prizes will be credited to the winners' accounts. Wagering is not provided, which is another big advantage of the tournament: after receiving your reward, you will be able to use it immediately at your own discretion.
1xBit Easter Bunny's Adventure: FAQ
How long will 1xBit Easter Bunny's Adventure last?
How much can you win in 1xBit Easter Bunny's Adventure?
Is it possible to take part in 1xBit Easter Bunny's Adventure in demo mode?