1xBit 100% Bet Insurance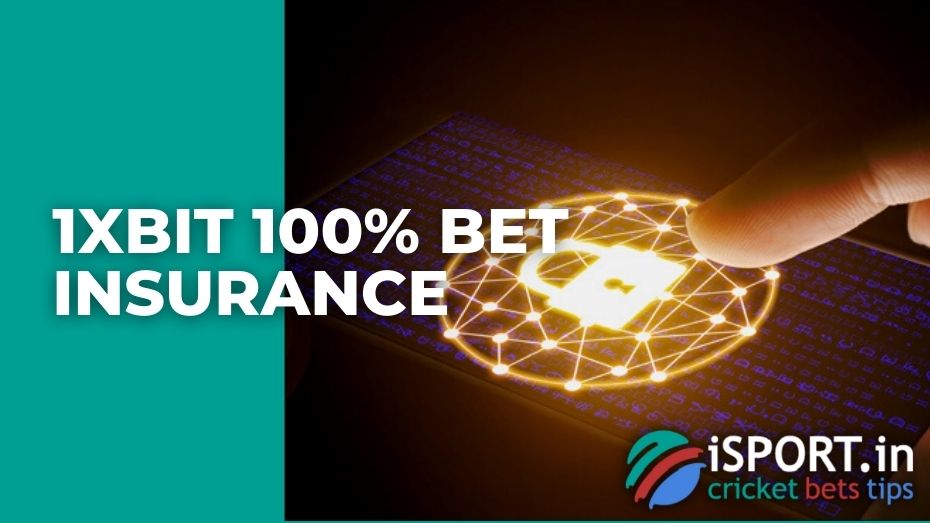 In addition to the traditional and familiar deposit bonuses, 1xBit offers its regular customers a lot of non-obvious rewards. As practice shows, beginners often miss the opportunity to use them, which means they can't get or save additional funds. What needs to be done to avoid this, we will tell you with the example of an offer 1xBit 100% Bet Insurance.
1xBit 100% Bet Insurance: features of use
1xBit 100% Bet Insurance occupies an important place in the list of sports rewards from a bookmaker. Why sports? The fact is that according to the company's rules, you can only insure a bet made in a Line or Live while spinning slots in the casino section is not included in this list.
Attention: 1xBit 100% Bet Insurance is available only to registered clients. If you have not yet had time to start creating a personal account, we recommend using the promo code 1xbit ISPORT, which entitles you to receive a welcome package bonus for a total amount of up to 7 BTC.
There are no special restrictions on the bets in this case:
You can choose a match both in Line and Live;
Discipline does not matter at all – if desired, you can insure a bet on tennis or cricket, as well as on esports or squash;
The odds can be any, from extremely small to maximum;
The type of bet will also not affect the amount of insurance, so you can equally well stop at both a single bet and an accumulator (more complex bets – for example, systems – the bookmaker does not insure).
At the same time, it is important to remember that 1xBit 100% Bet Insurance is a paid service, which means that before requesting it, you will need to check the status of your personal account and the availability of funds on it.
Attention: 1xBit does not accept payment of insurance with bonus money.  
1xBit 100% Bet Insurance: simple example
Let's say you chose an Indian Premier Cricket League match between Mumbai Indians and Chennai Super Kings for a single bet, noting as the most likely outcome the victory of the second team at odds of 2.00. When making a bet slip, you will be asked to accept the changes in the odds or refuse them. In the second case, the total amount of possible winnings will not change (so if you bet 10 mBTC, it will be 20 mBTC).
However, the current odds demonstrate that the chances of Chennai Super Kings winning are still slightly higher, which means that your forecast may be unsuccessful. It is at this stage that you should request insurance to find out how much the bookmaker estimates it.
The main criterion that is used in this case is the size of the odds. After receiving the request, the bookmaker sends a counteroffer: 1xBit 100% Bet Insurance = 5 mBTC. If you are ready to accept it, the specified amount will be automatically debited from the account, and the bet will be transferred to the insured category.
Then there are two possible scenarios:
The first one. The bet has won. In this case, you are paid the winnings in full (recall, in our case it is 20 mBTC);
The second one. The bet has lost. Since we insured the bet for the entire amount, we will receive 10 mBTC back to the account.
Finally, we will clarify that it is not necessary to apply for 100% bet insurance right away. If you wish, you can insure 1/10 of the total bet amount, then another 40%, and finally the remaining half. This strategy is suitable primarily for those who prefer to register sports betting in Live, where changes in the odds can be quite noticeable (if you chose this option, do not forget to note in the coupon form "Accept with an increase" or "Accept any change").
1xBit 100% Bet Insurance: FAQ
Is 1xBit 100% Bet Insurance a paid-for service?
Can 1xBit 100% Bet Insurance be partial?
1xBit 100% Bet Insurance: is it possible to apply it several times?