Rabona India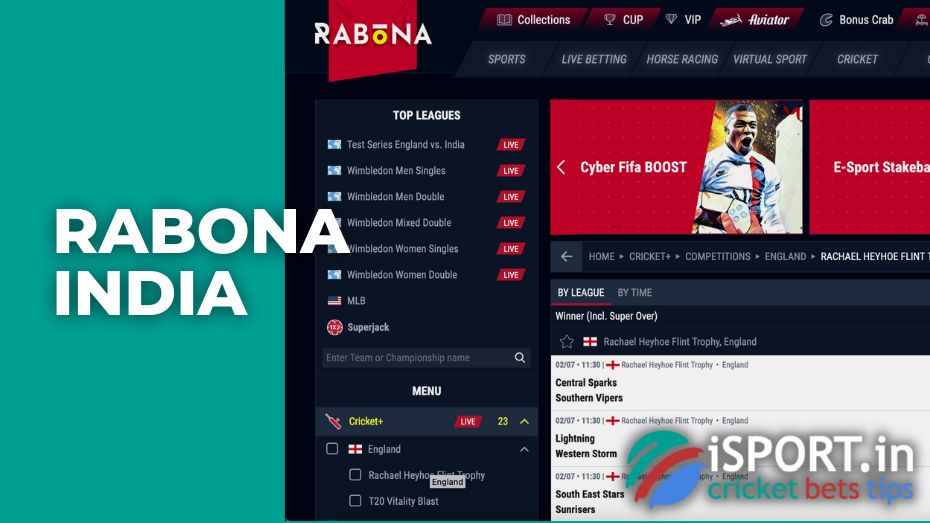 Rabona is a completely new platform that accepts and provides its services to users from different countries. The site offers a wide range of gaming options, including bets before and on time for matches, casinos, live dealer games and virtual sports. Rabona India has several features, expressed both in the display of sections in the header of the platform with sports disciplines popular among Indian users and in the existing special bonuses that work only in certain sports. We will tell you in this article everything that Indian betters need to know who decided to get better acquainted with the site.
Rabona India: cricket
Let's start the review with cricket betting offers because this is the most favorite game in India. The first thing that immediately catches your eye is the fact that Rabona has become a rapidly developing platform from the very beginning of its activity, instantly moving on to creating a wide variety of sports options and establishing itself as one of the best-licensed companies in the field of cricket betting. In addition to this fact, there are also offers on the platform for betting in the vast markets of sports such as football, basketball, tennis, hockey and even water polo. So, in Rabona India, cricket has a specially dedicated section located in the header of the main page. Going to it, the bettor will see such types of competitions as:
International T20 series.
Indian Premier League.
ICC World Cup.
Pakistan Super League.
Big Bash League.
Mzansi Super League, etc.
Of course, you can gamble on any of the available cricket competitions using Rabona. After all, each league or tournament consists of dozens of different matches, and the match, in turn, presents hundreds of different options for betting. For example:
The team that won the coin toss.
The winner of the match.
The Best Bowler.
Total.
Draw and other formats.
Separately, it is worth noting that active bettors receive special Player Cards from the Collection for every action they perform on the site. Having collected such a collection, it can be exchanged for bets with a real value. This approach will cause additional interest and motivation for the betterer. Players should also remember to visit the Promotions section because there you can find both temporary and permanent promotions that help you earn even more money by betting on cricket and not only.
Rabona India: horse racing
Do you have the desire to bet on horse racing and observe these processes? Then you should visit the site described in this review. After all, the Rabona India horse racing site is so popular that it is not included in the Sports section, but has its dedicated area.
The Horse Racing section is very large and contains the following tabs:
Racing.
Horses.
Harness.
Greus.
As can be seen from the names, bettors can bet not only on horse races but also sled races and dog races.
The navigation in the horse racing section is different from the rest of the betting shop. All upcoming events are listed from top to bottom in the center of the screen and arranged in the order tied to their start time. When the user clicks on the race he has chosen, its live broadcast opens, under which you can choose which horse to bet on, determine the amount to be deposited into the coupon, and the type of bet to be made. The BM provides a free stream of many of its races.
This approach to the Horse Racing section is simple, understandable and effective for both new and professional players.
Rabona India: mobile app
Rabona India is one of many betting platforms that is trying to take advantage of the growing number of mobile bettors who prefer to bet directly using a smartphone or tablet. Since mobile betting is on the rise, it is not surprising that the bookmaker makes enough decisions so that users can place stakes, even if a personal computer is not located within reach. It is worth noting that the Indian version of the site does not yet have special applications for Android or iOS operating systems. After all, according to support, Rabona India programs are being developed for casinos and bookmakers, but their release date is not known.
In any case, bettors do not need to despair, because you can simply use the browser installed on your smartphone and get access to the betting platform. The site has been optimized so that any mobile browser can open it without any problems. This eliminates the need to download files or perform any installation-related procedures.
After opening an online resource, users will find that the experience gained in such a version of the platform does not differ from the experience gained when using a computer. In other words, all the features and services provided by Rabona are identical and do not depend on the device used by the player.
No matter how the bettor gets to Rabona India, it is important to be able to log in to the profile he created. If the bettor does not have an account, it is recommended to create one. By registering with a special promo code – isport, you can get a bonus of up to 200 euros for sports betting or up to 500 euros and 200 free spins for playing at the casino at the company's expense. Of course, this is a very pleasant kind of encouragement, stimulating further play. You can find out more information about the bonus code in the Rabona Promo Code article.
So, it's time to sum up, Rabona India is designed specifically for people who want to get a modern and convenient online betting and casino site. The site's development team has devoted their time and energy to convincing users that the technical side of the betting shop is impeccable, and navigation is simple and understandable. Therefore, you can easily bet on your favorite sports events and play casino entertainment using a browser on your phone or desktop computer, while being in a safe environment.