Melbet Sunstroke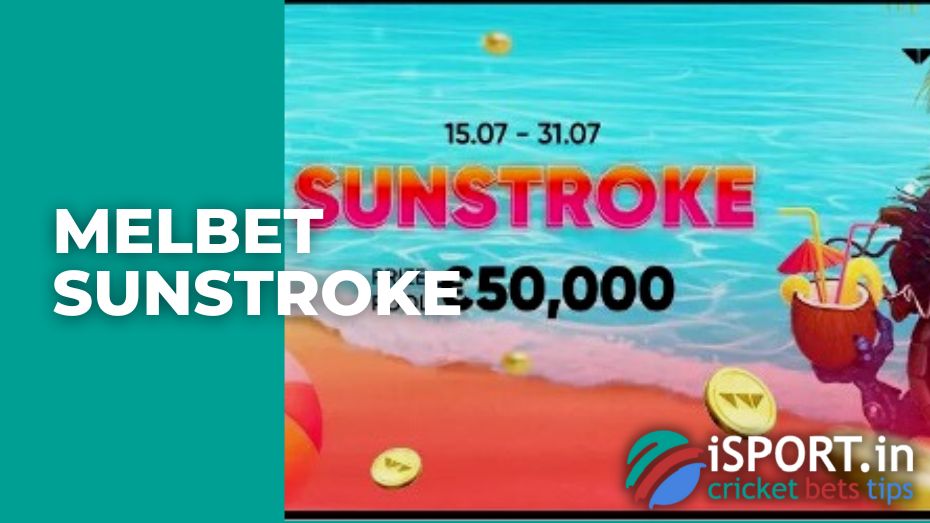 Earn an additional 1,000 euros by participating in a new promotional tournament from the Melbet Sunstroke bookmaker. We will tell you all the offer details in the note below.
Melbet Sunstroke: terms of the promotion
The online betting platform Melbet Sunstroke promotional tournament will be held from July 15 to July 31, 2022. The total prize fund of the offer is 50,000 euros. Its essence lies in the fact that users are invited to actively play all slot machines that belong to the popular provider Wazdan.
This time, players will not need to earn bonus points for any achievements. All cash prizes will be drawn between the participants in a random order, that is, randomly, using a unique program. By the way, one player can claim more than 1 random prize.
The maximum prize in terms of size is 1,000 euros. The minimum amount you can win is 10 euros.
The distribution of the prize fund:
A prize of 1,000 euros = 3 prizes.
A prize of 250 euros = 10 prizes.
A prize of 100 euros = 25 prizes.
A prize of 50 euros = 200 prizes.
A prize of 20 euros = 900 prizes.
A prize of 10 euros = 1400 prizes.
All cash gifts will be credited to the user's account within 72 hours when the winners are determined. Please note that funds are credited only on business days.
Credited prizes do not require wagering, which means that the money immediately goes to the main balance of the players.
Melbet Sunstroke: how to participate in the promotion
You must meet the following conditions to participate in the promotional offer from the company Melbet Sunstroke:
Be a current client of the Melbet BM. If you don't have a gaming account on the platform yet, then you can create one at any time. The main thing is to make it to the end of the draw, if you plan to participate. When registering, we recommend using our branded promo code – isport, which will give you an increased welcome bonus of up to 10.400 Indian rupees.
Log in to your account.
Top up the main balance. The promotion accepts bets on real funds.
Open any slot from the Wazdan gaming provider.
Play active games in the period from July 15 to July 31.
Wait for the draw and take your prize.
You can find an even more extensive selection of new promotional offers from bookmakers and online casinos on our website in the Betting section.
Melbet Sunstroke: FAQ
What is the period of the Melbet Sunstroke promotional offer?
Which slots are included in the offer from Melbet Sunstroke?
How much is the prize pool in the Melbet Sunstroke promotion?