Linebet Weekly Cashback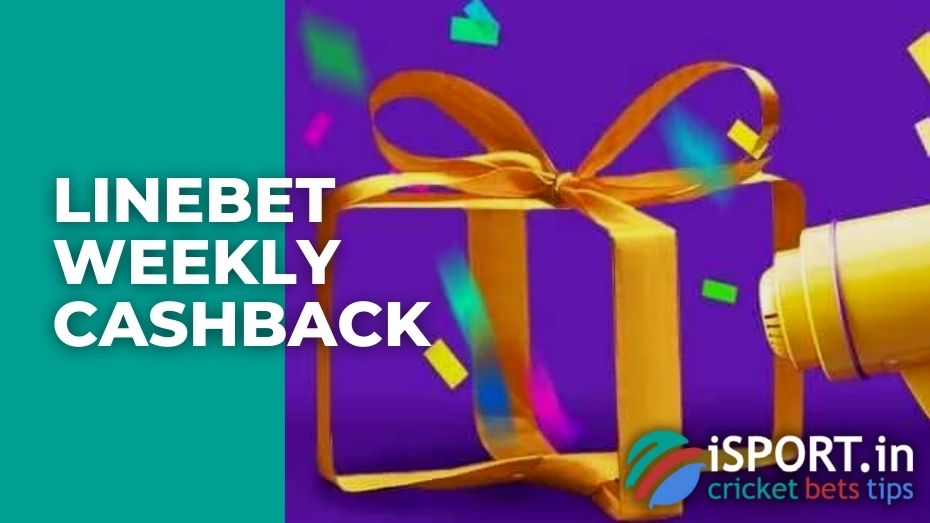 There are permanent and one-time, gaming and sports bonuses in the Linebet list. Among the latter, in particular, is the Linebet Weekly Cashback, the main advantage of which is that its percentage is calculated based on the total amount of bets made – both winning and lost.
Linebet Weekly Cashback: bet and win
Linebet is famous for its wide variety of betting options. Both sports betting fans and gamblers can not only find profitable options for betting here but also, if they wish, try their hand at any of the available sections
Live / Line, which contains not only events from the top leagues (for example, the Italian Serie A), but also matches from less popular categories (e.g. Gaelic football);
Esports, where you can bet on a match from the Dota, MortalKombat, League of Legends and so on;
Games and Casino with an extensive collection of slot machines for every taste.
Each of them has its range of rewards. So, if slot tournaments are addressed primarily to those who regularly visit the virtual gaming hall, then only those who place stakes in one of the sports sections can qualify for the Linebet Weekly Cashback.
Attention: regular betting on esports is not a reason to receive cashback. 
How much is the Linebet Weekly Cashback? Perhaps one of the main advantages of this promo is that you determine the final amount yourself. All that needs to be taken into account is the percentage of allocations (0.3%).
Let's analyze an example: so, if you place a total of a thousand dollars during the week, then you will receive plus 3 USD to the account at the end. The minimum amount of cashback set by the rules is 1 USD, the maximum allowable is 1000, therefore, the more bets you have placed during the week, the more you can get at the exit.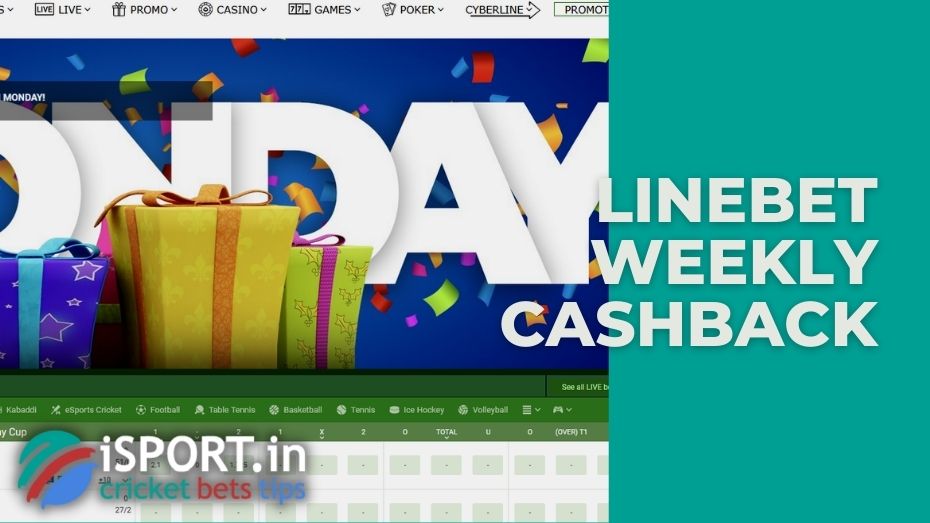 You do not need to subscribe to the Linebet Weekly Cashback, because it is calculated automatically. At the same time, there are several important limitations to keep in mind:
Cashback is credited on Wednesdays, while stakes placed between midnight on Monday and 23:59 on Sunday (+7 GMT) are counted;
In order to receive the deductions established by the rules, it is necessary to make a bet with an odd of at least 1.50;
Cashback cannot be combined with other bonuses.
Thus, the system does not take into account the bets that were returned (that is, calculated with a cap of 1.00), bets on two mutually exclusive outcomes, handicaps and total, oversold bets and accumulators with less than three events in the coupon. As already noted, betting on esports also does not provide for the possibility of accrual of cashback; the same applies to bets registered in the gaming section.
Attention: If you use the Malay or Hong Kong coefficient format, the extremely low value will be 0.50. For the American format – 200, for indoodds – 2.00.
Only registered customers with a verified account can claim the Linebet Weekly Cashback. If you are creating an account on a popular sports and gaming platform for the first time, we have great news – by using the isport promo code Linebet, you can get a choice of one of two bonuses:
Sports (addressed to sports betting fans who intend to spend most of their time in Line/Live) – plus 100% to the first deposit within 100 EUR;
Casino (the best option for gamblers) – a four-part incentive package consisting of 150 free spins and 1500 EUR.
Good luck!
Linebet Weekly Cashback: FAQ
How much is Linebet Weekly Cashback?

The total amount of weekly cashback is 0.3% of the total amount of bets placed.
Linebet Weekly Cashback: How much can you get?

The maximum amount of weekly cashback from Linebet is 1000 USD.
Is it possible to get Linebet Weekly Cashback for bets in the gaming section?

No, this offer is valid only for sports betting.