Kabaddi Bonus in 1xBet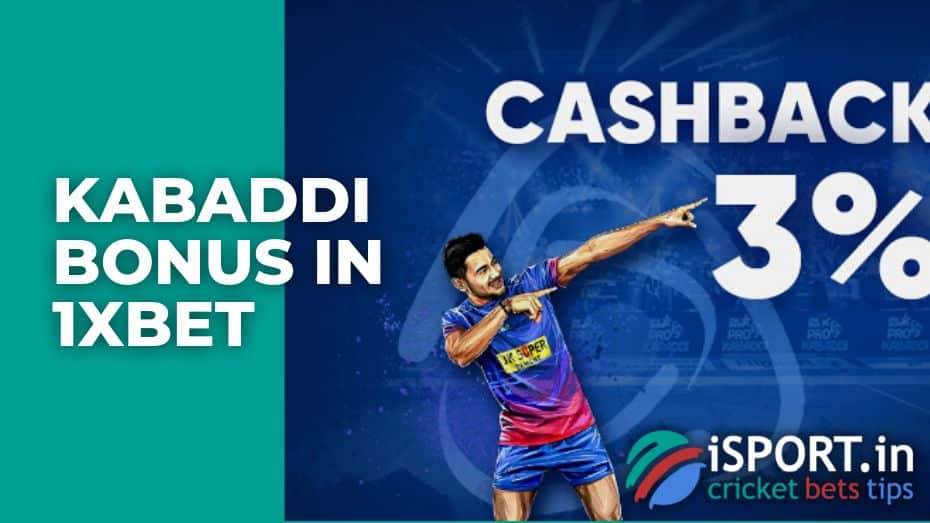 Sports betting enthusiasts love autumn because most of the regular tournaments you can bet on begin during this period. So, in honor of the launch of the Kabaddi Pro League, a Kabaddi Bonus in 1xBet was launched, allowing weekly cashback in the amount of up to 5,000 INR. We share the promotion terms and tell you how to get as much benefit as possible from the new promo!
Kabaddi Bonus in 1xBet: how the reward is calculated
It is not easy to find at least one active bettor who would not adore promotions and bonuses from bookmakers. Think for yourself: you are doing what you love – betting on sports, and the company gives you various gifts for your activity!
A bonus program for fans of the Kabaddi League tournament starts on October 6, 2022, allowing you to receive a weekly 3% cashback from the amount of all bets placed on matches. The maximum size of the Kabaddi Bonus in 1xBet for 7 days is 5,000 INR.
How is the reward calculated? The bookmaker will consider single and express bets on the Kabaddi League, while the outcome of the bet (win or loss) does not matter. Cashback is credited on Tuesdays as funds to the main gaming account, and it is not required to make any wagering.
Kabaddi Bonus in 1xBet: how to participate in the promotion
A wide betting coverage, a popular league and a lack of wagering – are these not ideal conditions for the promotion? It's time to find out how to get the Kabaddi Bonus in 1xBet online. The stages of participation in the promo are as follows:
We pass authorization on the site. If there is no gaming account, you will need to create one to participate in the promotion and make a bet. The 1xBet promo code ISPORT specified during registration will contribute to receiving an increased welcome reward.
Fill in the game profile. Kabaddi Bonus will only be issued to users with the following fields: full name, mobile phone number and email (both with subsequent activation), and country of residence.
We agree to participate in the promotions. Here it is enough to open the account settings and select the "Sport" tile, thereby subscribing to participate in the bookmaker's promo.
It is worth recalling that cashback is credited exclusively for the matches of the Kabaddi League tournament. This means that a single or express coupon must have at least one event of the above competition.
Attention! The bonus is credited only if the minimum cashback amount during the week was 1,000 INR!
It is worth considering that bets made exclusively for real money are credited. Betting on promo codes, bonus, advance and refunded bets, and predictions for total and handicap do not participate in the promotion. Duration of the promotion: weekly from Monday to Sunday in the period from October 6 to December 18, 2022.