Jeetwin 20% Slots Reload Bonus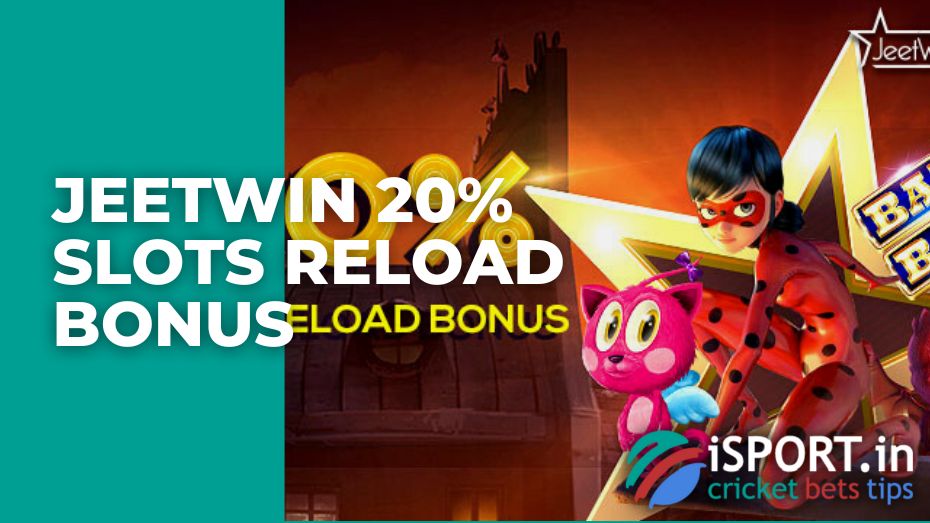 What benefits can you get by registering via a promo link at Jeetwin online casino? The most obvious answer is one of three starting bonuses to choose from. So, in particular, any beginner can claim 100% to the first deposit or a gift in the amount of 5 000 INR for playing in the "Live Casino" section. Interestingly, a similar amount can be obtained for bets placed in the virtual gaming platform by activating Jeetwin 20% Slots Reload Bonus, which is available not only to new but also to regular clients of the company.
Jeetwin 20% Slots Reload Bonus: use it profitably
Jeetwin 20% Slots Reload Bonus is among the constant rewards from online casinos. Simply put, you can request it any number of times provided that:
You managed to withdraw the entire amount of the previous bonus in its entirety;
There are no active rewards on your account.
Imagine that you are just planning to register and have not yet had time to delve into the online casino bonus line details. How to activate Jeetwin 20% Slots Reload Bonus correctly?
Step 1. Create and activate a personal account;
Step 2. Replenish the account with the desired amount;
Step 3. Find what you need in the list of rewards and click "Join".
Jeetwin 20% Slots Reload Bonus is relevant for CQ9, HBN, JDB, and JILI products. It is very easy to request a qualifying list, but before making your first bet, we recommend visiting the Slots section to evaluate the basic principles of navigation.
So, in particular, if you wish, you can search for slot machines by name (search bar) or by category (top menu bar). However, both methods are more suitable for those who have already managed to get used to the section and do not need additional tips. The third option is ideal for beginners – a quick search by provider: for example, to display all available slots from JDB, it is enough to find the appropriate icon at the top of the page and click on it, after which the system will generate a list of slot machines, starting with the most popular (so, in this case, the collection is opened by "Billionaire", "Olympian Temple", "Kingsman" and " OpenSesame").
Attention: there is a demo mode for slots in the Jeetwin virtual gaming platform. However, when calculating the total bonus amount, only those bets issued with funds from the player's main account are considered.
The maximum Jeetwin 20% Slots Reload Bonus is 5 000 INR. At the same time, it is essential to remember that this promotion is a deposit, which implies mandatory wagering (in this case, the wager is x15).
Let's analyze an example.
Let's say you activated the bonus and spent 4 000 INR on bets. Accordingly, the reward amount, in this case, will be 800 INR. Adding up both amounts and multiplying them by 15, we get 72 000 INR – that's how much you need to put down to get access to the bonus.
And a few more important points. Thirty days are allotted for the promotion wagering from the moment of its accrual, after which the funds received are burned. Having fulfilled the listed requirements, you can deactivate it or request it again (in the first case, you will need to make appropriate edits to the list of available bonuses in your personal account).
If desired, the client can terminate his participation in the event ahead of schedule. You will not be able to receive the previously accrued bonus in such a situation. However, the company will refund the remaining deposit amount, having previously deducted 10% of the fine provided by the rules.
Jeetwin 20% Slots Reload Bonus: FAQ
What is the maximum bonus amount of the Jeetwin 20% Slots Reload Bonus?
How many times can I get Jeetwin 20% Slots Reload Bonus?
Do I need to wager Jeetwin 20% Slots Reload Bonus?