Jeetwin 2.5% USDT Deposit Bonus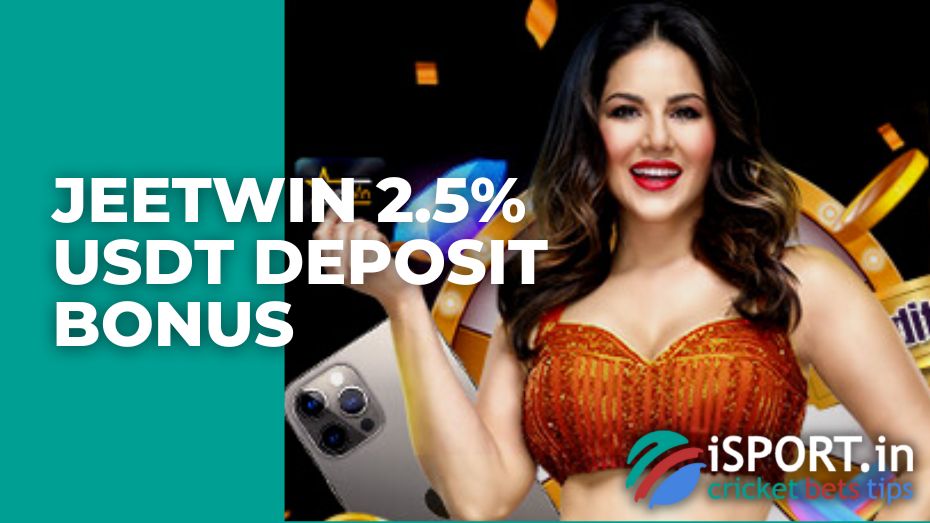 Any experienced gambler who has been betting in an online casino for years is probably aware that many sites still restrict access to bonuses to owners of cryptocurrency accounts. Fortunately, the gambling industry does not stand still, so this practice is gradually becoming a thing of the past: in particular, cryptocurrency deposits are even encouraged at Jeetwin. Today we will tell you how to activate Jeetwin 2.5% USDT Deposit Bonus and why you should not limit yourself to just one gift.
Jeetwin 2.5% USDT Deposit Bonus: from deposit to withdrawal
Jeetwin's main currency is the Indian Rupee (INR). Nevertheless, the rules of the online casino not only do not exclude cryptocurrency transactions, but also actually encourage players to replenish their accounts in this way. A striking example is Jeetwin 2.5% USDT Deposit Bonus which promises to become one of the most popular items in the list of permanent rewards.
Why?
Firstly, the very minimum of effort is enough to activate it. If you managed to register using the promo link and get one of the three initial bonuses, you just need to top up your account with the desired amount in Tether and wait for the transaction to be confirmed.
Secondly, you can use the funds received in any of the games you like, starting with the top category and ending with arcade games (the removal of this restriction was warmly welcomed by the owners of cryptocurrency accounts, who previously could not freely participate in many bonus events, including slot tournaments and prize races).
The exception is sports sections (in particular, "Cricket"); otherwise, the organizers do not limit the choice of clients in any way. If you are not too confident in the virtual gaming hall yet, we recommend the following options for compiling your own mini-collection of slots:
By searching by name ("Holmes and the stolen stones", " Sahara Nights ", "Valley of the Gods");
By sorting by providers (Yggdrasil, Booongo, Pragmatic Play);
Through the category selection ("Jackpots", "New items", "Demo").
The maximum amount of encouragement for a deposit in USDT is 15 000 Indian rupees. Therefore, you can independently determine the amount of your gift.
Let's analyze an example.
Let's say you have deposited 100 USDT to your account. The current rate in relation to INR is 79.54; therefore, your bonus will be:
(100 x 79.54) x 0.025 = 198.85 INR
Immediately after the deposit is confirmed, the promised gift will be credited to your bonus account. The rules do not provide for a wager as such; however, in order to withdraw and cashJeetwin 2.5% USDT Deposit Bonus, you will need to wrap the entire amount once in the virtual gaming hall. Thus, to get your 198.85 INR, you need to put down additionally:
7954 + 198.85 = 8152.85 INR
Attention: if the amount of replenishment exceeds 600 000 INR at the current rate, you will be credited 15 000, that is, no more than the maximum stipulated by the rules.
Jeetwin 2.5% USDT Deposit Bonus is available to all Tether account holders without exception. The main advantage of this promotion, of course, is that you can request it as many times as you see fit. There are no additional restrictions in this case, so the higher your gaming activity, the more significant the final benefit.
Nevertheless, the organizers urge us to remember that Jeetwin 2.5% USDT Deposit Bonus is credited only to those clients who strictly follow the rule "one player – one account". In case of identification of second or more accounts registered to the same person, the funds in the account are frozen, and the player himself is subject to final disqualification without the right of restoration.
Jeetwin 2.5% USDT Deposit Bonus: FAQ
What is the maximum amount of Jeetwin 2.5% USDT Deposit Bonus?
How many times can I get Jeetwin 2.5% USDT Deposit Bonus?
Do I need to wager Jeetwin 2.5% USDT Deposit Bonus?