El Diablo at Casino X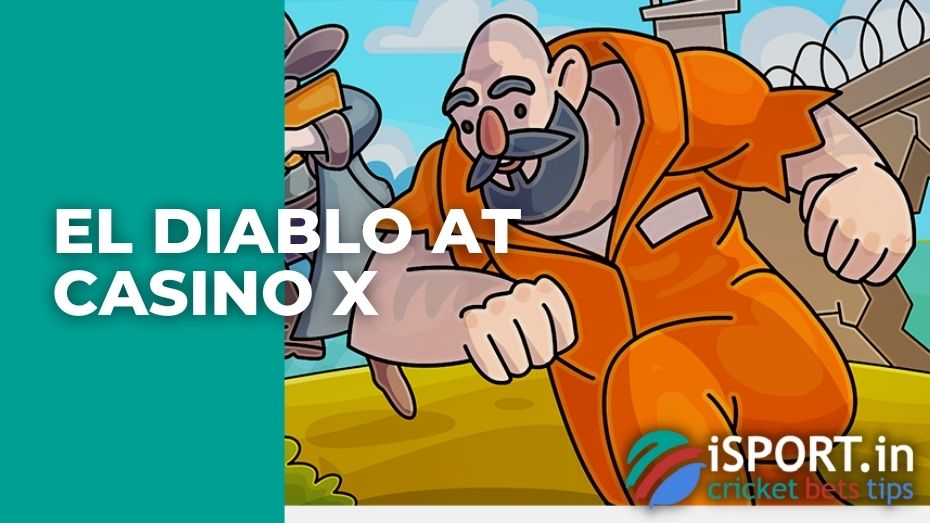 He was unsuccessfully hunted by the police. And he loved his bad business, admiring the actions of the created criminal group. El Diablo was cunning, found workarounds and enjoyed success with girls and knew how to be friends. However, after some time he became disillusioned with his life and admitted his mistakes… If you want to try to walk the path of this character, then you are in the El Diablo at Casino X tournament, which takes place every Saturday.
El Diablo at Casino X: general information
El Diablo at Casino X is a tournament held once a week, in many countries on the first day off, Saturday. The draw is divided into four rounds for the convenience of the participants:
Round №1. 9:00 — 11:30 ( GMT 0).
Round №2. 12:00 — 14:30.
Round №3. 15:00 — 17:30.
Round №4. 18:00 — 20:30.
Being a registered Casino X client, you can compete in new games every day. There are also tournaments taking place throughout the week. You can choose what you like best. For example, a Roulette tournament takes place all seven days. You can also join a Private casino Club, where the most exclusive entertainment is collected and there is an opportunity to try your hand at games before their official release. For fans of fighting, the company has made several tournaments at once, which are held on one of the days of the week. Many people like the Wild West. But there are also enough fans of El Diablo at Casino X. The guaranteed prize pool of the last tournament is 300 EUR, and the minimum stake in the games is 0.5 EUR.
Don't forget that you must have an account in this casino. So to use our Casino X promo code upon registration.
In order for you to be included in the race for the grand prize of El Diablo at Casino X, you need to go in and start participating in any of the games offered. A separate entertainment list of more than 50 games to choose from is compiled for each draw. You can be involved in one or more games. In any case, points for productive spins according to the formula "max win rate" are counted:
| | |
| --- | --- |
| Number of points | Win value |
| 0 points | from  х0 to  х1 |
| 1 point | from  х1 to  х2 |
| 5 points | from  х2 to  х3 |
| 10 points | from  х3 to  х5 |
| 25 points | from  х5 to  х10 |
| 75 points | from  х10 to  х25 |
| 125 points | from  х25 to  х50 |
| 250 points | from  х50 to  х100 |
| 500 points | from  х100 and more |
Additional points can be earned if you can win several games in a row. For 6 or more wins in a row, you can earn 50 points:
| | |
| --- | --- |
| Number of points | Number of wins |
| 1 point | 1 win |
| 2 points | 2 wins in a row |
| 5 points | 3 wins in a row |
| 10 points | 4 wins in a row |
| 25 points | 5 wins in a row |
| 50 points | 6 and more wins in a row |
You don't need to calculate the points yourself. They are added up and entered into a table in real time and you can see your position. Pauses of half an hour between rounds are also given so that players can change their tactics in El Diablo at Casino X. For example, it is useful to use the "Booster" function after a pause, which is activated under the following conditions:
The competitor in the standings above is not involved for five minutes or more.
You place a stake above the minimum, that is, more than 0.5 EUR.
The participant who scored a specific amount of points earlier than the opponent will be higher in the table. Points earned in El Diablo at Casino X cannot be accepted for the allocation of positions in other tournaments.
El Diablo at Casino X: how the results are summed up
The organizers present the final table at 20:30 (GMT 0). The top five players receive cash prizes, and the rest of the participants in the top 50 are awarded free spins:
| | |
| --- | --- |
| Place in the table | Percentage of the prize pool/Number of free spins |
| 1 | 45% |
| 2 | 22% |
| 3 | 16% |
| 4 | 11% |
| 5 | 6% |
| 6-10 | 50 free spins |
| 11-25 | 30 free spins |
| 26-50 | 20 free spins |
Then all rewards require wagering with the x3 wager. The organizers are obliged to accrue the winnings within seven days after the end of the tournament. If you have any questions, you can contact the Casino X administration in any available way. For example, via Live Chat.