Casino Gods Extra Boost 25%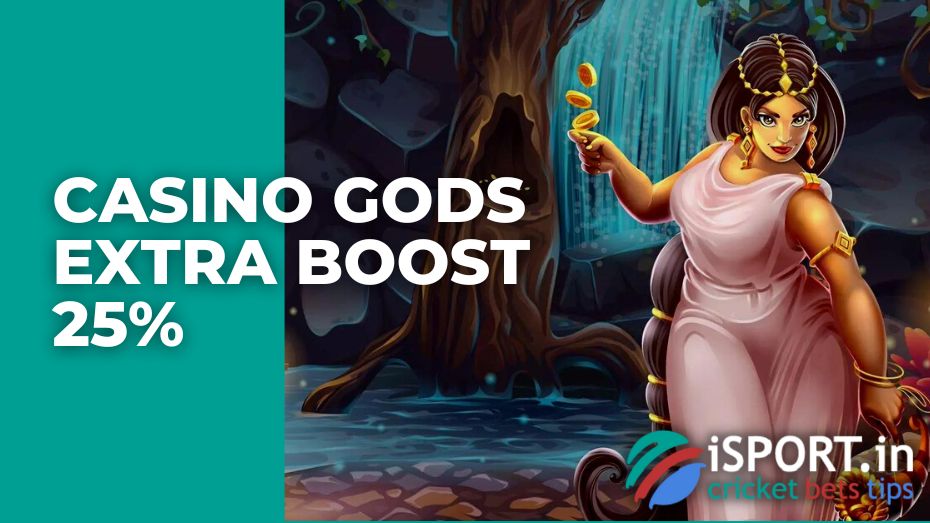 Casino Gods is a casino of great opportunities. Here, bettors are not only offered to fully immerse themselves in the godly theme, but also get good bonuses. So, there is a Casino Gods Extra Boost 25%. Once a month, you can receive 25% of the deposit amount. This article discusses the conditions for obtaining a bonus, how to wager it and who can get it.
Casino Gods Extra Boost 25%: general information
All registered users have a chance to become the owner of Casino Gods Extra Boost 25%. You will be able to use this offer after you consume the welcome bonus. The additional reward can be activated by depositing 20 USD or more. Understanding that you are entitled to one active bonus at Casino Gods is essential. The maximum bonus sum within this offer is 100 USD.
After confirming participation in the promotion Casino Gods Extra Boost 25%, the user will receive money to the bonus account. They must be played in the company's games with the x40 wager. There are 14 days for wagering, so you will not be able to delay. The bonus usage countdown starts after the promotion organizers provide you with free spins, which happens no later than 12:00 GMT the day after you made the request. It is important to note that with a positive main balance, first of all, write-offs will go from it, and not from the bonus account.
When using Casino Gods Extra Boost 25%, you will have certain restrictions on bets before you do not fulfill all the conditions regarding wagering:
Slots and video slots — a maximum of 5 USD per spin or 0.5 USD per betting line.
All other games — a maximum of 30 USD per bet.
Also, you will not be able to withdraw money from the account until you wager the bonus. If a withdrawal request is executed, the Casino Gods Extra Boost 25% promotion organizers will cancel your chance to collect a prize. Also, all bonus funds will be debited from the account.
Casino Gods Extra Boost 25%: wagering
You can bet, trying to win back Casino Gods Extra Boost 25%, in any games except Baccarat and the list of exception games (about 100 titles). However, not everything is so easy. In some games, the coefficient for replenishing the credit is very modest:
All Blackjack games — 5%.
Table games — 10%.
Big Bad Wolf, Supernova, Hot Ink — 20%.
Fruit Blast — 50%.
It is much more profitable to place bets in the "Classic Slots" sections (75% for scoring) and other games (100%). So choosing the right strategy for participating in entertainment is also very important. To do this, it is better to familiarize yourself with the full rules of the promotion on the Casino Gods website.
The promotion organizers warn that participants may be charged an administrative fee of 10% of the winnings. This fee is provided for players who will intentionally try to gain an advantage. For example, for those who decide to rely only on bets with minimal risk in roulette. It is also crucial for Casino Gods Extra Boost 25% participants to know the following rules of the promotion:
Free Spins are valid for 72 hours after activation.
The maximum amount after wagering the bonus for withdrawal can be 2000 USD.
You will not be able to play with a bonus account in Push Gaming or Real Dealer Studios games, as well as some other games.
Keep in mind in advance that players in more than 20 countries around the world will not be able to get Casino Gods Extra Boost 25%. Among them are mainly European countries. From Asian countries, the list includes China, Singapore, Indonesia, Malaysia, Vietnam, and Bangladesh.
Before the organizers of the promo Casino Gods Extra Boost 25% allow you to withdraw money from your account after wagering, they will check your activity over the past weeks. So it's not worth deliberately bypassing any barriers from the casino. If you have gone through the bonus wagering, but have not received the money to the main balance, then contact the site administration. To do this, it is best to write in the form of a built-in online chat, where they will help you solve your problem quickly.
In order not to miss any promotions, including Casino Gods Extra Boost 25%, casino users are advised to subscribe to the notification newsletter. This can be done in your personal account, and you will be able to receive notifications in the form of SMS or e-mail (depending on which method is convenient for you).