1xBit Ticket Rush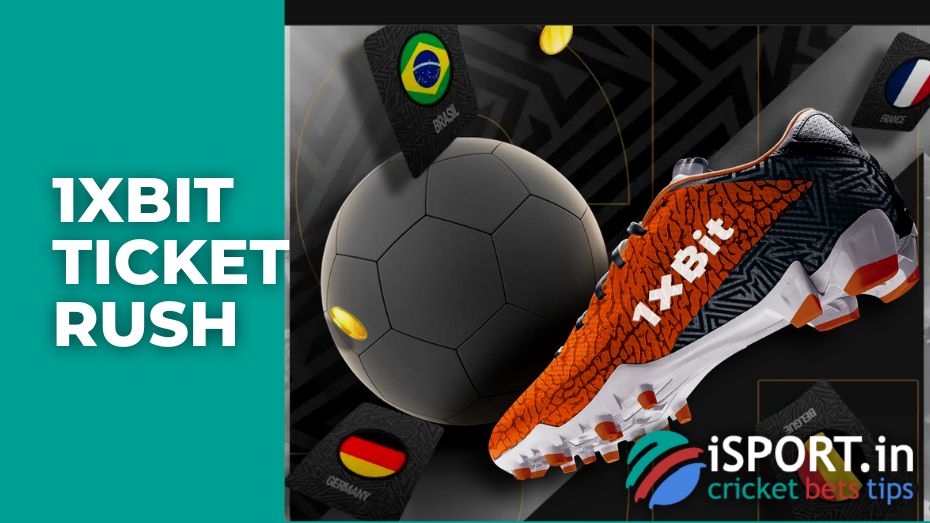 1xBit never tires of delighting its customers with new promotions that coincide with major sporting events. This time, we are talking about the World Cup in Qatar, which has already managed to present football fans with many surprises – both pleasant and not so much. But even if your favorite team has already managed to leave the tournament, do not worry – perhaps a bet on another squad will bring you luck. So, by signing up to participate in the draw called 1xBit Ticket Rush and making a minimum of effort, you can win up to 500 mBTC. Read our review to know how to do this.
1xBit Ticket Rush: from registration to winning the draw
The 1xBit Ticket Rush will last exactly one month, starting on November 19 and ending on December 18, 2022. During this period, anyone can compete for one of the cash prizes of 2 to 500 mBTC.
What is needed for this?
First, of course, the presence of your account. There is no demo mode for participating in the draw, so if you don't have your profile yet, start by registering it and be sure to use our ISPORT promo code, which entitles you to receive a starting bonus of up to 7 BTC.
Secondly, you will need to observe a few simple formalities before entering the race. Be careful: even though there is nothing complicated or incomprehensible in them, you cannot skip these steps. Otherwise, the system will simply not register you. So:
Fill out the questionnaire in your account;
We confirm our consent to participate in bonus events from 1xBit;
Go to the promotion page in the "Bonuses" section;
Choose from the proposed list of eight participating teams of the 2022 FIFA World Cup;
Click on the "Participate" button.
Ready? Congratulations: now you are a full-fledged participant of the 1xBit Ticket Rush. The very name of the event is not accidental – by placing bets on the proposed conditions, you will receive tickets, each of which may be potentially winning.
How does it work?
So, the minimum bet amount is 1 mBTC. That's how much you need to put down at a time to get one ticket. Accordingly, the more you spend, the more tickets you can buy, increasing your chances of winning:
2 mBTC will bring you three tickets;
4 mBTC – eight tickets;
8 mBTC – twenty tickets;
15 mBTC – fifty tickets;
30 mBTC – one hundred and twenty tickets;
60 mBTC – three hundred tickets;
125 mBTC – eight hundred tickets;
250 mBTC – two thousand tickets;
Over 500 mBTC – five thousand tickets.
Attention: the minimum allowable coefficient for stakes within the 1xBit Ticket Rush promotion is 1.40.
All tickets are divided into three categories: Individual match tickets, Supporter tickets and Knockout tickets. The first one is universal: it includes all tickets purchased by the participant during the action. The second includes tickets accrued for bets on group stage matches, the third – for playoff matches.
Attention: you can make rates in the desktop version of the site and in the mobile application.
In total, three draws are planned (according to the number of categories), and the most successful participants will be able to win several prizes*.
Individual match tickets (December 20)
Supporter tickets (December 7)
Knockout tickets (December 20)
Place
Prize Amount, mBTC
Place
Prize Amount, mBTC
Place
Prize Amount, mBTC
1
500
1
10
1
250
2
300
2
8
2
100
3
200
3
6
3
75
4
150
4
4
4
50
5
100
5
2
5
25
6
90
–
–
–
–
7
80
–
–
–
–
8
70
–
–
–
–
9
60
–
–
–
–
10
50
–
–
–
–
* this applies primarily to the Supporter tickets category, where 32 people can claim for each cash prize. In addition, any player who has previously purchased tickets of this category, in theory, can win up to five prizes from the list.
Prizes in the 1xBit Ticket Rush promot are distributed randomly, which means that any third-party interference in the draw results is excluded.
1xBit Ticket Rush: FAQ
How long will the 1xBit Ticket Rush last?
Is it possible to participate in the 1xBit Ticket Rush without having an account?
What is the minimum bet in the 1xBit Ticket Rush draw?